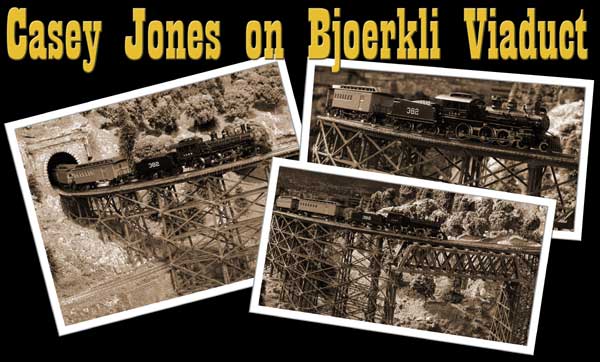 See the pictures with Casey Jones running on the Bjoerkli Viaduct(Bjørkli Viadukt)
---
Finally I have taken some new pictures from the big bridge on the layout, the Bjoerkli Viaduct. Other pictures you have seen, is 10 years old, so with my new Märklin Casey Jones trainset, it was time to take some more pictures.
Here you can see the steamengine and 4 passenger cars, crossing the bridge. The engine is very nice and have a lot of details.
Read more about Casey Jones and his train on Water Valley Casey Jones Museum pages.
---
New 030209: See the short Casey Jones Video

25 Sec video footage with Casey Jones on th Bjoerkli Viaduct:
The rails are slippery on the trestle, and the crew need
to use sand on the wheels, to maintain the speed.

Windows Media Format (1.1 Mb) | Real Media Format (740Kb)

Casey Jones are just entering the big Bjoerkli Viaduct

A closer look

Casey Jones are just entering main span on the bridge.
The height of the span is only 1"(25 mm)